broadwaycafesociety.com: Spotlight On... KAREN ZIEMBA
Welcome to SPOTLIGHT ON ... our monthly Q&A with musical theatre and cabaret professionals.
Tony Award-winning musical star KAREN ZIEMBA has wowed Broadway audiences in CHICAGO, CRAZY FOR YOU, STEEL PIER, CONTACT and 42ND STREET, among others. She is currently appearing as lyricist-turned-reluctant leading lady Georgia in Kander & Ebb's CURTAINS opposite David Hyde Pierce and Debra Monk.
Note: All photos in this article courtesy of Susan Schulman Publicity and Karen Ziemba.com.
---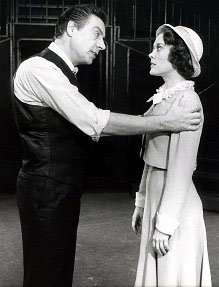 With Jerry Orbach in 42ND STREET
For those not familiar with your work, what was your first big career break and your first major role on Broadway?
My first Broadway show was A CHORUS LINE. I played several roles in the first national company and then was asked to join the Broadway cast. My first leading role on Broadway was "Peggy Sawyer" in 42ND STREET opposite the wonderful Jerry Orbach.
I read that your grandmother was a very well-known performer with the New York City Opera. Could you please tell us about her? How much of an influence was she in your becoming a performer yourself?
My grandmother was famed mezzo-soprano Winifred Heidt, one of the stars of the New York City Opera, who was known for playing the role of Carmen all over the world. Her love of music influenced my Mother and she influenced me.
In CONTACT, you won a Tony for your role as The Wife. CONTACT was essentially three short plays told primarily through dance was no original score that went on to win the 2000 Best Musical Tony. It caused a lot of controversy at the time, especially the fact that all the music was pre-recorded. How did it affect you?
The controversy involved the musicians union rather than the performers. We just went out and did our show.
As Roxie Hart in CHICAGO
You've played some pretty spunky heroines in your career (Roxie in CHICAGO, Babe in THE PAJAMA GAME, Polly in CRAZY FOR YOU, etc.). Which one is the most like you? It is easier playing someone completely opposite or someone close to your own personality?
I think there is a little bit of me in every part I play.
You've participated in many productions for NY City Center's ENCORES series. Will be performing with them next season?
I hope so. I love doing ENCORES. I appeared in the very first Encores season in ALLEGRO and then did THE PAJAMA GAME, ZIEGFIELD FOLLIES OF 1936, BYE BYE BIRDIE and two "Broadway Bashes". I can't wait to do more.
As Georgia in CURTAINS. Photo by Joan Marcus
Let's talk about your current show, CURTAINS. The entire cast is having WAY too much fun up there. How has the experience been for you?
We ARE having a lot of fun. We like each other which doesn't happen all the time. We are very lucky.
You play a lyricist in CURTAINS. Have you done any songwriting in real life?
NO
You've done a few guest-starring parts on the TV series SCRUBS and LAW & ORDER. Any more TV or film projects in the works?
Doing eight shows a week on Broadway doesn't give me much time for other things. But I look forward to doing more TV and film in the future.
Will you be recording a solo CD any time soon? Your devoted fans (including myself) are waiting patiently!
Yes, I'm currently recording my first solo CD of songs sung by Mary Martin on Broadway, the West End and on tour.
Thanks so much for joining us this month. I'd like to conclude with a rather off-beat question. If you could choose anyone (alive or dead) to collaborate with on your next musical theatre project, who would you choose and why?
There are so many great directors and songwriters I'd love to work with - Doug Hughes, Dan Sullivan, Graciela Daniele, Lynn Ahrens and Stephen Flaherty, and of course, Stephen Sondheim.